Those who are looking to choose a career or those who are unhappy with their current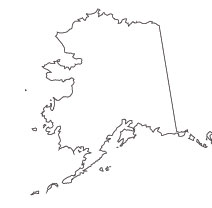 careers now have a viable option for their futures. The field of medical billing and coding presents a wealth of opportunities as job growth continues across the entire nation each year. Competitive salary, great benefits, and job stability can all be yours as a medical biller or coder.
<!- mfunc feat_school ->
Featured Programs:
Sponsored School(s)
<!- /mfunc feat_school ->
Sponsored Listings
Job Prospects and Potential Pay
The U.S. Bureau of Labor Statistics classifies both medical billers and medical coders as health information technicians. The annual salary for a health information technician in Alaska is $43,750. However, medical coders average a higher yearly salary than medical billers in Alaska. Statistics have shown that medical coders earn an average annual salary of $56,907 in Anchorage while medical billers in Anchorage earn an average of $39,700 per year. Jobs that require both medical billing and coding specialties typically range in the middle of those averages. Many of the current job listings for a medical biller/coder in Alaska offer pay rates ranging between $25 and $30 per hour.
Some Alaska cities you may look to for medical billing and coding education information: Fairbanks, Anchorage, and Barrow.
Top Alaska cities/areas for medical billing and coding careers: Anchorage, Railbelt (Southwest Alaska), Fairbanks, also the southeastern Alaska region.
Alaska Medical Biller Overview
It is the job of a medical biller to gather all the medical codes and necessary insurance information of a patient and then enter all of it into billing software. That is referred to as a claim and it is then sent to the responsible payor, which is usually an insurance company. Medical billers also conduct follow-ups on certain claims when necessary.
Medical billers in Alaska are responsible for verifying that both insurance companies and patients are billed correctly. For that reason, they have occasion to interact with patients and insurance company representatives on a regular basis. Billers are also required to explain the specifics of billing to patients when asked. That requires sound communication skills and the ability to deal with people in an effective manner.
It is up to medical billers to make sure all the billing information is accurate and that patients are aware of their financial obligations. That also includes the submission of the necessary documentation as it pertains to each claim.
Alaska Medical Coder Overview
Alaska medical coders are responsible for assigning the appropriate codes that represent a patient's diagnosis or any procedures that were administered by a healthcare professional. Those diagnoses and services rendered are represented by codes. It is the job of the medical coder to recognize what procedures have been done and to label them accordingly with the proper codes. This is done through the use of a coding system.
Coders find themselves frequently interacting with physicians, nurses and other healthcare providers to verify all the specifics of a patient encounter. All of those procedures and diagnoses must be accurately translated into codes.
Because of the precision involved, medical coders in Alaska are required to be extremely accurate while also possessing a close attention to detail. There also needs to be a firm grasp of the coding system and all that it entails. 
Medical Billing and Coding Certification Requirements
Certifications are required for some medical billing and medical coding jobs in Alaska. It is up to the discretion of the hiring company to decide what kind of certification, if any, is acceptable. More medical coding jobs require certifications when compared to medical billing jobs as those do not always come with the demand that applicants be certified. A job that requires applicants to uphold medical coding and billing responsibilities typically calls for some kind of certification.
To become certified as a medical biller or medical coder, one must complete a medical billing and coding program administered by an accredited post-secondary school. The programs are not differentiated according to medical billing and coding but rather combined into one curriculum. Students can attend a medical coding and billing certification program offered by one of Alaska's accredited technical institutes or colleges. There is also the option of moving to Alaska with a certification from an accredited post-secondary school from another state.
Certification programs generally last about nine months as students are taught the essentials of medical billing and medical coding. These programs lump together the two disciplines and provide instruction so that students can function as a professional medical biller and coder.
Colleges also offer the same kind of curriculum as an Associate Degree of Applied Science in Medical Billing and Coding can be earned through two years of schooling on a full-time basis. This degree will serve as an ample form of certification to mostly all prospective employers who are looking to hire new medical billers and coders.
Earning an Associate's Degree or certification will also qualify individuals to take a national certification offered by the AHIMA (American Health Information Management Association). This association provides medical billing certifications along with medical coding certifications as well. When these individual certifications are attained, it enhances the potential of acquiring a job in an Alaska health care facility.
Meeting Education Requirements
Those looking to acquire an education in medical billing and coding should hold a high school diploma or GED equivalency. Knowledge of Microsoft Excel and basic math skills are beneficial and while it is not required for educational purposes, a fair amount of companies conduct criminal background checks before hiring new medical billing and coding professionals.
State License Requirements
Alaska has no mandated licensing process for medical billers or medical coders. Certain medical professionals must obtain state licenses in order to obtain employment in Alaska, although medical billers and coders do not fall into that group.
Resources
Medical Billing Salaries in Alaska
Check out what medical billing professionals earn on an annual basis in Alaska as these salaries are categorized according to a city.
Medical Coder Salaries in Alaska
Here is a look at what medical coders earn an on annual basis in various Alaskan cities.
Alaska Medical Billing and Coding Jobs
This website brings together medical billing and coding job openings throughout the state of Alaska.
Visit this site to learn more about all of the medical centers and hospitals in Alaska, complete with clickable links.
Browse through various resources offered by the Alaska State Medical Association.
Alaska Native Tribal Health Consortium
The Alaska Native Tribal Health Consortium provides the highest quality health services for Alaska Native people at the Alaska Native Medical Center and across Alaska through training, health education, disease and injury prevention, and rural water and sewer construction.
Advanced Pain Centers of Alaska
For more than a decade, Advanced Pain Centers of Alaska has been in the business of relieving pain and restoring function to Alaska's people.
For more than 50 years Alaska Regional has been fulfilling the medical needs of Alaskans, continually improving the scope of services and skills available within the state.