Only certain careers come with job stability, competitive pay and health benefits. That is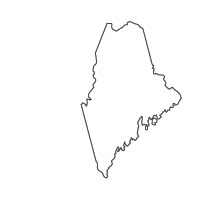 why it is important to carefully select a career path that is going to include its share of rewards. Medical billing and coding professionals regularly receive all those perks while also performing an important function in the healthcare industry. There is also a high demand for medical billers and coders that continues to grow each year.
<!- mfunc feat_school ->
Featured Programs:
Sponsored School(s)
<!- /mfunc feat_school ->
Sponsored Listings
Billing and Coding Certification Requirements
To work as a medical biller or coder in Maine, there is generally the need to hold some kind of certification. Those certifications are proof that a medical biller or coder has been adequately trained for the particular job assignment. There are different ways to obtain a certification and the quickest is to enroll in a certificate program offered by an accredited post-secondary school. Many technical institutes, vocational schools, and community colleges offer certificate programs in medical billing and coding, which usually lasts for a range of nine months to a year.
A second option would be to enroll in a college that offers an Associate's Degree of Applied Science in Medical Billing and Coding. These Associate's Degree programs take two years to complete on a full-time basis. That involves extra coursework as medical billing and coding are combined into one comprehensive curriculum.
An Associate's Degree or program certificate serves as preparation to take national certification exams offered by the AHIMA (American Health Information Management Association) or AAPC (American Academy of Professional Coders). These organizations offer individual certifications in medical billing and medical coding. Some employers require new medical billers and coders to have earned one of these respective certifications.
However, there are no universal guidelines used by Maine healthcare facilities when it comes to hiring medical billers and coders. Each facility is left to create its own requirements and requisite qualifications. However, non-certified applicants are less likely to be awarded medical billing and coding jobs in Maine, particularly when there are applicants who can lean on the strength of a certification or multiple certifications.
Meeting Education Requirements
The career path to becoming a medical biller and coder in Maine starts with a high school diploma or GED equivalency. There is no need to acquire any other post-secondary school credits to start out an education as a medical biller or coder in Maine.
Overview of a Maine Medical Biller and Coder
Medical billers and coders in Maine perform separate job tasks, although the training for these positions is often combined into one program. However, that does not mean all of the jobs in this field require both medical billing and coding responsibilities. Maine medical billers and coders often work separately, although the two jobs share some similarities.
Medical billers are entrusted with filing the claims that ensure a health care facility gets reimbursed for all the services it provides to patients. Third-party claims require medical billers to know patient histories as well as the specifics of insurance company policies. Dealing with programs like Medicaid and Medicare is a specialty of a medical biller in Maine.
There is also a need to follow up with patients and insurance companies, which means that there is a significant amount of daily correspondence conducted by medical billers. That communication extends to other staff members to ensure that all account balances are effectively managed.
Maine medical billers are equipped with strong communication and clerical skills as well as being very proficient with the computer software used in this line of work. There is also a good deal of paperwork involved, which requires medical billers to have strong organizational skills.
Medical Coders in Maine are the ones who provide medical billers with the codes used in these claims. The codes are translated from documents that detail the exact medical services provided to a patient. Every kind of medical service, procedure, and diagnosis is represented by an individual code. Medical coders in Maine make sense of all kinds of reports, by assigning the correct medical codes to every service that has been provided.
This task is completed by knowing the international healthcare coding system and being able to identify ICD-9 Codes just as easily as ICD-10 codes, in addition to many other codes. Medical coders also audit health information records to ensure accuracy.
The job duties of a medical coder require a close attention to detail and a sound knowledge of, federal laws, Maine statutes and facility guidelines. A working knowledge in the area of computerized health information systems is also used by Maine medical coders on a daily basis. 
State License Requirements
Maine has not set any licensing procedures for medical billers and coders to follow. That means there are no employment restrictions as medical billers and coders are free to work in any hospital, physician's practice, or another kind of health care facility within the state of Maine.
Job Prospects and Potential Pay
Medical billers and coders in Maine can expect to make an average yearly salary of $36,200. Salaries have the capability of exceeding that statewide average as some Maine medical billers and coders earn up to $50,140 per year. Medical billing and coding jobs are also on the rise in Maine as there is almost a 4% job growth every year. That growth is not expected to slow down as the medical industry continues to expand throughout the state of Maine.
Some Maine cities you may look to for medical billing and coding education information: Sanford, Auburn, Presque, Portland, Scarborough, and Augusta.
Top Maine cities/areas for medical billing and coding careers: Portland and (South Portland), Biddeford, Bangor, Northeast Maine (non-metropolitan area, Rochester, New Hampshire, Dover, and Portsmouth.
Just a few employers of medical billers and coders in Maine:
Resources
This Maine-based website has a full listing of medical billing jobs available throughout the state.
Maine Health Information Management Association
Check out this website's job board, a list of upcoming events, and other resources available to Maine medical billers and coders.
This association provides a host of online resources to medical professionals in Maine.
Browse through these job listings for medical coders all throughout the state of Maine.