A future in Maine medical transcription offers competitive pay in a growing market where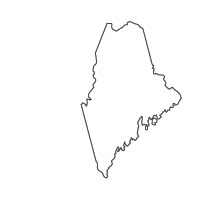 jobs are plentiful. This profession could pave the way for an exciting future which opens up a world of possibilities. Maine medical transcriptionists are and continuing to achieve their goals with a skill that is in constant demand.
<!- mfunc feat_school ->
Featured Programs:
Sponsored School(s)
<!- /mfunc feat_school ->
Sponsored Listings
Medical Transcription Career Overview in Maine
A medical transcriptionist in Maine is responsible for taking oral recordings made by physicians and turning them into a written form. This is accomplished by using a combination of listening and typing skills. These medical reports are often of great significance, which stresses the need for accuracy and reliability when it comes to transcription. A Maine medical transcriptionist is also responsible for edited medical documents produced by health care professionals and as well as reports that have been produced with voice recognition software.
The health care profession extends to many different areas, which enables a medical transcriptionist to work in an array of different settings. Hospitals, research facilities, physician's offices and clinical studies are just a few of the settings where a medical transcriptionist can find work in the state of Maine.
There is a meticulousness within the work that is completed by a medical transcriptionist. The job requires the skill to decipher medical jargon, identify homonyms and differentiate between medical terms. It is a trade that combines a variety of skills which is necessary to produce an accurate documentation of pertinent medical information. Many of those transcriptions lead to the production of reports focusing on surgery, radiology, oncology and other important areas in the medical field.
Medical transcriptionists in Maine are expected to transcribe medical dictation with a near 100% accuracy rate. They are also required to know all the relevant medical abbreviations and be able to identify medical terminology. Keyboarding skills are also required to be at an above-average level.
Medical Transcription Certification Requirements in Maine
To obtain a certification as a medical transcriptionist in Maine, applicants would have to pass an examination issued by the Association for Healthcare Documentation Integrity (AHDI). This is not a state-affiliated association, but one that is recognized on a national level. Maine has no state certification that is required to work in this particular field. However, obtaining a certification significantly enhances the prospects of acquiring a job.
Medical transcriptionist certifications are generally achieved after completing some type of accredited program. Such programs in the state of Maine exist in various colleges, which offer an Associate's Degree in Medical Transcription. This generally includes course work that covers a two-year span. There are also one-year programs offered at other accredited institutions, which also provide concentrated course work in medical transcription.
Medical transcription classes teach students a combination of skills that are focused on keyboarding, medical terminology, grammar, and listening skills. Once an individual has completed a medical transcription program from an accredited post-secondary school, there is the option of taking certification exams that to become a Registered Healthcare Documentation Specialist (RHDS) or a Healthcare Documentation Specialist (CHDS). Both of these certifications are issued by the AHDI.
Maine health care businesses are free to hire any individual for the position of medical transcriptionist. There are no mandated licenses to obtain a job in this field. Nevertheless, medical facilities and hospitals have shown a tendency to hire individuals with some kind of accreditation or certification.
Medical Transcription Training and Maine Licensing Requirements
In order to become a medical transcriptionist in Maine, candidates must hold a high school diploma or GED equivalency. Applicants must be at least 18 years of age and most medical transcription programs require the ability to type a minimum of 35 words per minute. Many medical transcriptionist training programs will also require applicants to pass a criminal background check and an individual drug test.
Job Prospects and Potential Pay in Maine
A medical transcriptionist in Maine averages an annual salary of $31,000. That is right around the national average pay for a medical transcriptionist. The job market for medical transcriptionists in Maine is on the rise, growing more than 10% each year. That annual increase is above the national average as more medical transcriptionists are needed each year in the state of Maine.
Resources
Medical Transcription Certification Available to Maine Residents
The AHDI offers medical transcription certifications recognized throughout the nation, including the state of Maine. This site provides a detailed explanation of that certification.
Maine Medical Transcriptionist Salaries
Browse through the state and check out the various salaries that have been reported by full-time medical transcriptionists in Maine.
Medical transcriptionists can work in a variety of settings and this site provides an extensive list of prospective places of employment.
This site provides a look at real medical reports, many of which were transcribed by professionals in the state of Maine.
Maine Medical Transcription Job Listings
Go to this site that provides a current listing of all the job listings for medical transcriptionist in Maine.
Maine Medical Transcription Forums
Maine residents can join online discussions with other medical transcriptionists across the country.