Choosing a career is an extremely important life decision that could make a huge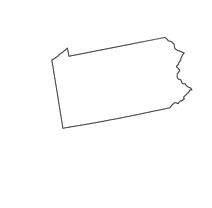 difference on how the future unfolds. Becoming a medical transcriptionist is a career choice that offers flexible hours, steady work and competitive pay. There is also a steady growth in this job market, one that could provide job security and much-needed stability for years to come. The path to becoming a medical transcriptionist is also one that does not involve years of expensive schooling.
<!- mfunc feat_school ->
Featured Programs:
Sponsored School(s)
<!- /mfunc feat_school ->
Sponsored Listings
Overview of a Medical Transcriptionist in Pennsylvania
Medical transcriptionists play an integral role in the modern health care system. An immense number of medical documents and reports would not exist without medical transcriptionists. Physicians and other health care professionals entrust medical transcriptionists to take their audio recordings and turn them into typed documents and reports.
The busy everyday routine of professionals working in the health care industry does not allow them the time to write everything down. That has paved the way for audio recordings to play an important role in their daily work. Physicians often make audio recordings of patient histories, discharge summaries, emergency room reports, pathology reports and much more. Those recordings are then given to qualified Pennsylvania medical transcriptionists who transcribe the recordings so that the final product is a structured document that is precise, clear and grammatically correct.
To achieve this task, medical transcriptionists in Pennsylvania are well-versed in medical terminology and have a thorough comprehension of health care documentation. Above-average keyboarding and listening skills are used to complete these reports, many of which have strict deadlines.
A medical transcriptionist is expected to transcribe recordings with a 100% accuracy rate. Editing and reviewing documents is a customary part of the job as context, grammar, medical terms and consistency should all be very precise. For that reason, Pennsylvania medical transcriptionists are known for their dependability, accountability and attention to detail.
Education Requirements
To begin a career as a medical transcriptionist in Pennsylvania, candidates must be at least 18 years of age and also hold a high school diploma or GED equivalency. There are no college credits required to become a medical transcriptionist in Pennsylvania. However, there is the need to pass a drug screening and criminal background check. A basic comprehension of MS Word and Word Perfect platforms is also recommended.
Pennsylvania Medical Transcriptionist Certification Requirements
Medical transcriptionists in Pennsylvania are required to follow several steps on the way to earning a certification. The first step is to enroll in an accredited post-secondary school that offers a medical transcriptionist program. Many vocational schools and technical institutes throughout the state offer medical transcription training. The programs generally last one year, with some taking as little as nine months to complete. Once all the program requirements have been satisfied, a medical transcriptionist certification is awarded. That certification can then be used to gain employment at health care facilities throughout the state of Pennsylvania.
Health Care facilities come up with their own criteria for hiring medical transcriptionists in Pennsylvania. One of the most common requirements is a certification from an accredited post-secondary school.
An Associate's Degree's in medical transcription is another kind of certification, although those programs typically last two years and include additional college courses in other subject areas. This is a highly-revered form of certification among health care facilities looking to hire new medical transcriptionists.
Non-certified medical transcriptionists are not exempt from working in the state of Pennsylvania, although they often have a more difficult time finding work and can be subject to lower entry-level pay rates.
Job Prospects and Potential Pay
A full-time medical transcriptionist in Pennsylvania earns an average of $35,000 per year. There is the potential to exceed that figure. Medical transcriptionist with more experience and those living in metropolitan areas can expect to earn a higher yearly salary. The health care industry is experiencing an ongoing expansion in Pennsylvania, which continues to open up new medical transcriptionist jobs every year.
Pennsylvania Licensing Requirements
Regardless of experience or certification levels, a medical transcriptionist in Pennsylvania is not required to hold a state license. There has been no established licensing procedure for medical transcriptionists in Pennsylvania. That also means there are no dues, fees, or renewals that need to be attended to on an annual basis. There has also been no talk of introducing the requirement for a Pennsylvania medical transcriptionist license in the near future.
Medical Transcriptionist Resources
Medical Transcriptionist Jobs in Pennsylvania
Medical transcriptionist job openings are listed on this website that is specifically geared towards medical professionals seeking employment.
Medical Transcriptionist Job Openings in Pittsburgh, Pennsylvania
Browse through a variety of online job listings for medical transcriptionists in Pittsburgh, Pennsylvania.
Pennsylvania Health Care Association
This association brings together several online resources that highlight Pennsylvania health care seminars, events, news and much more.
Pennsylvania Hospitals and Medical Centers
Obtain direct links to the long list of Pennsylvania hospitals and medical centers on this website.
The Hospital and Health System of Pennsylvania
A vast amount of online resources, direct links and current events are featured on this website.